Female DB25 connector's ports are any cable or device connection point designed to plug in peripherals.
| Port of Female DB25 connector | Port of Male DB25 connector |
| --- | --- |
| | |
DB25 denotes a D-sub with a 25-position shell size and a 25-position contact configuration. The contacts in each row of these connectors are spaced 326/3000 of an inch apart, or approximately 0.1087 inches (2.76 mm), and the rows are spaced 0.112 inches (2.84 mm) apart; the pins in the two rows are offset by half the distance between adjacent contacts in a row.
This spacing is called normal density. The suffixes M and F (for male and female) are sometimes used instead of the original P and S for plug and socket.
DB25 connector is an analog 25-pin plug of the D-Sub connector family. DB25 is mainly used for serial connections, allowing for the asynchronous transmission of data as provided by standard RS-232. It is also used for parallel port connections, and was originally used to connect printers, and as a result is sometimes known as a "printer port". So to avoid confusion, DB25 serial ports on computer generally have male connectors, while parallel port connectors are DB25 female plugs.
D sub pcb 25 pin female connector for sale
Female DB25 connector provides an easy and convenient way to perform field termination of any cable. Separate connection points are provided for all 25 positions of the connector plus the ground. Terminal block design with set screws provides reliable electrical connections utilizing no special tools. The terminal block area is clearly marked making proper termination virtually foolproof.
Features
Easily terminate DB25 female connectors in the field, no crimping or soldering required
Terminal block allows for simple, quick wiring changes
Gold plated contacts provide reliable connections with repeated mating cycles
Connector style: DB25 female
Applications
Serial data transmission
Data networks
Instrument control
Device management
Drawing of D sub pcb 25 pin female connector for sale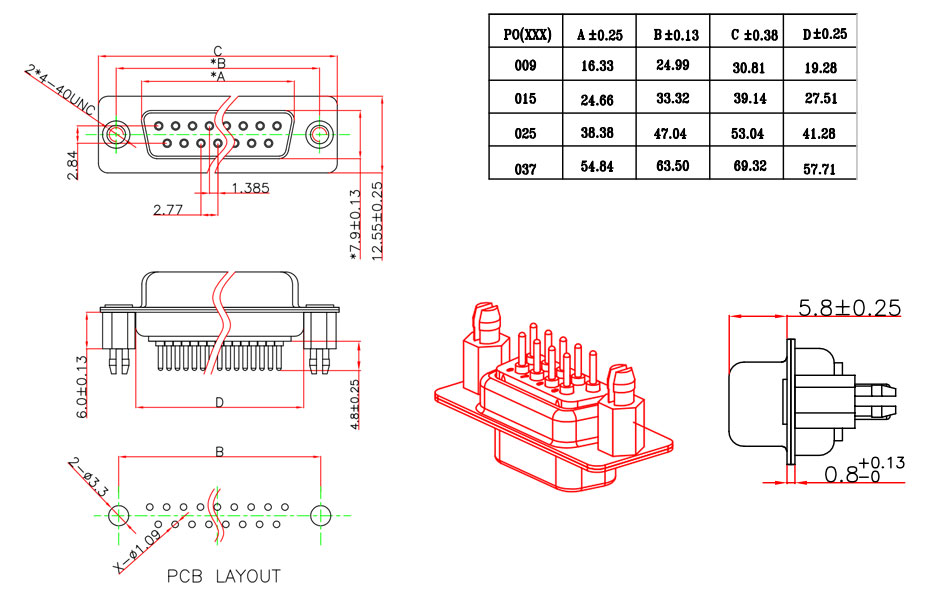 You may also like What businesses does SIGNALORIGIN engage in?
If you're interested in purchasing 25 pin D-sub connector, be sure to check out the wide range of standard and custom products from SIGNALORIGIN.
Learn more about our Electrical connector 
Contact us
+86 13686443658 (Suwen Sun)