8W8 D-sub coaxial connector from Signalorigin. All contacts are machined processing, phosphor copper material, gold plated. Coaxial D-Sub have 8 coaxial contacts. It is full layout. The impedance for the coaxial contacts are 50Ω or 75Ω.
Specification of 8W8 D-sub coaxial connector
Materials and finish
Shell: Steel or copper alloy material, Tin/Ni or Au finished
Connector insulator: PBT thermoplastic, 30% Glass filled, UL 94V-O rated
High frequency contact: Copper alloy material, gold plated
Electrical characteristics
High frequency contact current rating: 50 or 75 ohm
The radio frequency : 0~3GHz
The working voltage: 300V
High frequency contact resistance: 10 milliohms max
Dielectric withstanding voltage: 1000 v AC for 1 minute
Insulation resistance:2000 megaohms min
Temperature rating: -55°C ~125°C
Drawing of 8W8 D-sub coaxial connector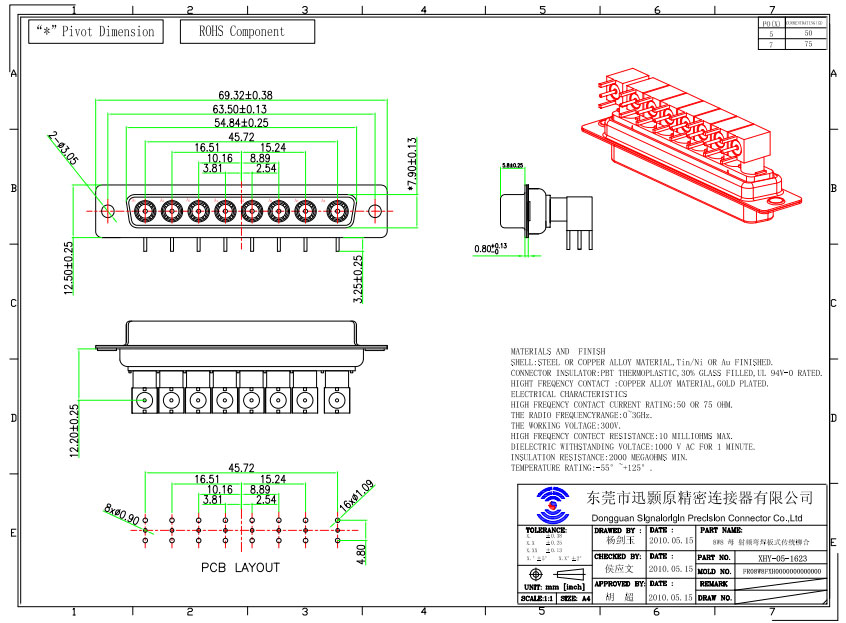 You may also like What businesses does SIGNALORIGIN engage in?
If you're interested in purchasing D-sub connectors, be sure to check out the wide range of standard and custom products from SIGNALORIGIN.
Learn more about our Electrical connector 
Contact us
+86 13686443658 (Suwen Sun)