78 pin high density d-sub right angle connectors manufacturer in China. Our high density connectors also available in 15, 26, 44, 62 and 78 positions,they are a good choice for a low cost industry standard high density connection. Interchangeable with all D-subminiature connectors on the market. Machined pin versions offer higher quality.
78 pin high density d-sub right angle connectors
Male 78 pin high density d-sub connectors
Female 78 pin high density d-sub connectors
Specification of 78 pin high density d-sub right angle connectors
Materials and finish
Shell: SPCC
Connector insulator: PBT+30%  G.F (UL94V-0)
Contact: Copper alloy material
Contact plated: Gold flash over nickel
Bracket: Copper alloy material, Ni plated
Electrical characteristics
Contact current rating: 3 A (can be customized)
Dielectric rating: 300V
Contact resistance: 15mΩ max
Dielectric strength: 500V AC RMS for 1 minute
Insulation resistance:1000MΩ min at 500V DC
Temperature rating: -55°C ~125°C
Drawing of 78 pin high density d-sub right angle connectors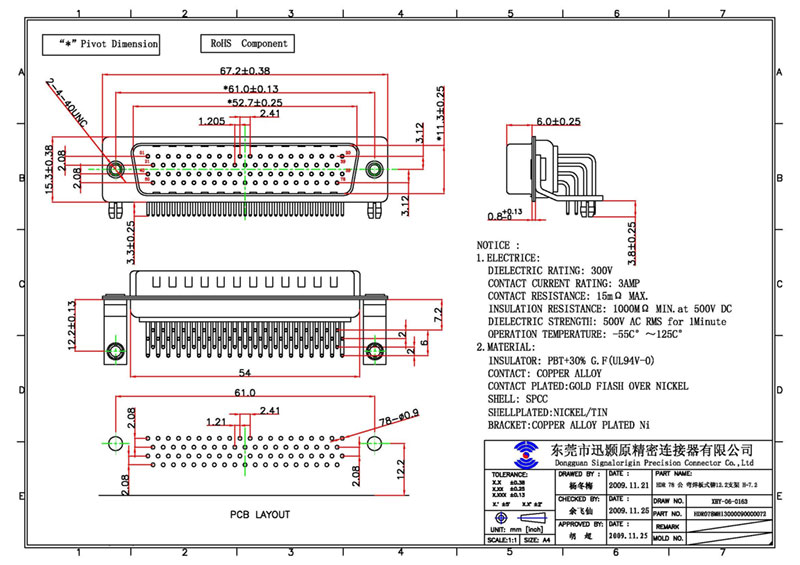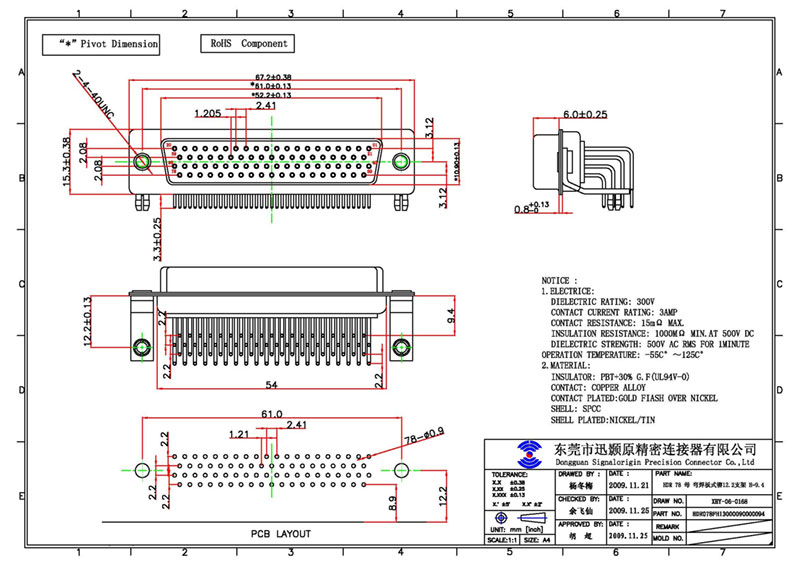 Products Certifications
Signalorigin company is the professional manufacturer of D-sub connector, we have got the global recognition, there are the main certifications of our products.
| | |
| --- | --- |
| | |
| Safety UL Certification | ISO9001:2008 |
Signalorigin is a China leader in providing interconnect solutions into a wide range of markets and applications, from traditional connectors to the latest and next generation technical products.
Signalorigin is a manufacturer of electrical connectors and associated products for the electronics industry. The Signalorigin product line-up includes a full line of D-Sub connectors, hoods and accessories, as well as, high voltage contacts and accessories to be used with our connectors.
75 and 50 Ohm coaxial contacts
High power contacts up to 40 A
High voltage contacts up to 3 kV
Mixed Layout Connectors feature high abrasion and corrosion resistance, low thermal contact resistance, very good contact characteristics, excellent solder-ability, and even plating density. Depending on the application, solder pot, straight PCB, or crimp terminations are available, as well as insertion and removal tools for the crimp versions to ensure safe and reliable installation.
You may also like What businesses does SIGNALORIGIN engage in?
If you're interested in purchasing D-sub connectors, be sure to check out the wide range of standard and custom products from SIGNALORIGIN.
Learn more about our Electrical connector 
Contact us
+86 13686443658 (Suwen Sun)